AC Mining Motors
" Your after-sales support is outstanding. We had our motor assessed and repaired and were "back in business' in no time. "
- John Duff, Site Manager, OSHO Mining
Our Technical Department

Full design & development of mining motors
TVE is a specialist AC and DC motor manufacture with ISO: 9001 accreditation and flameproof motor manufacture approval. TVE continually endeavours to improve, and innovate when it comes to new motor manufacture. From our design team and engineers, to the production planners and staff, TVE is constantly looking for ways to manage costs while improving motor efficiency and quality - to bring you the right blend of quality and price.
Manufacturing of Mining Motors
Our 73 years experience solving some of the toughest and most unique industry motor problems, in very difficult and unforgiving conditions means that we are well versed in many of the issues encountered when considering a new motor purchase. Our design team, with over a 100 years combined industry experience, is on hand to answer any questions, assist in concept design, and ensure that the motor you order is exactly suited and tailor made to your needs.
A testament to the quality and durability of our new motor designs, as well as our ability to solve your unique problem is the diversity of our market with TVE supplying motors as far afield as South Africa, USA, China, Australia and even Peru.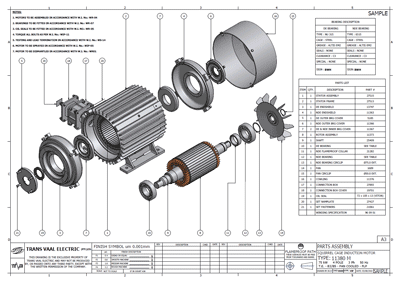 Get the BIGGER picture: Click on any image below and, once the bigger picture has presented itself, you can use your arrow keys to navigate left and right, or you can click on it again (to close it again) and select any other image to see the big picture.
Our Services

Select services in support of our motors

We carry parts and spares to all our mainline motors. Downtime is guaranteed to be a minimal 72 hours.

Motor replacement - should your motor require servicing, we will collect and replace your motor while it is being done

Delivery and commisioning of all our CM motors, regardless where in SA you are.

Consultation to assist you to achieve best of breed for your needs.

Make an enquiry and we will reply within 48 hours.